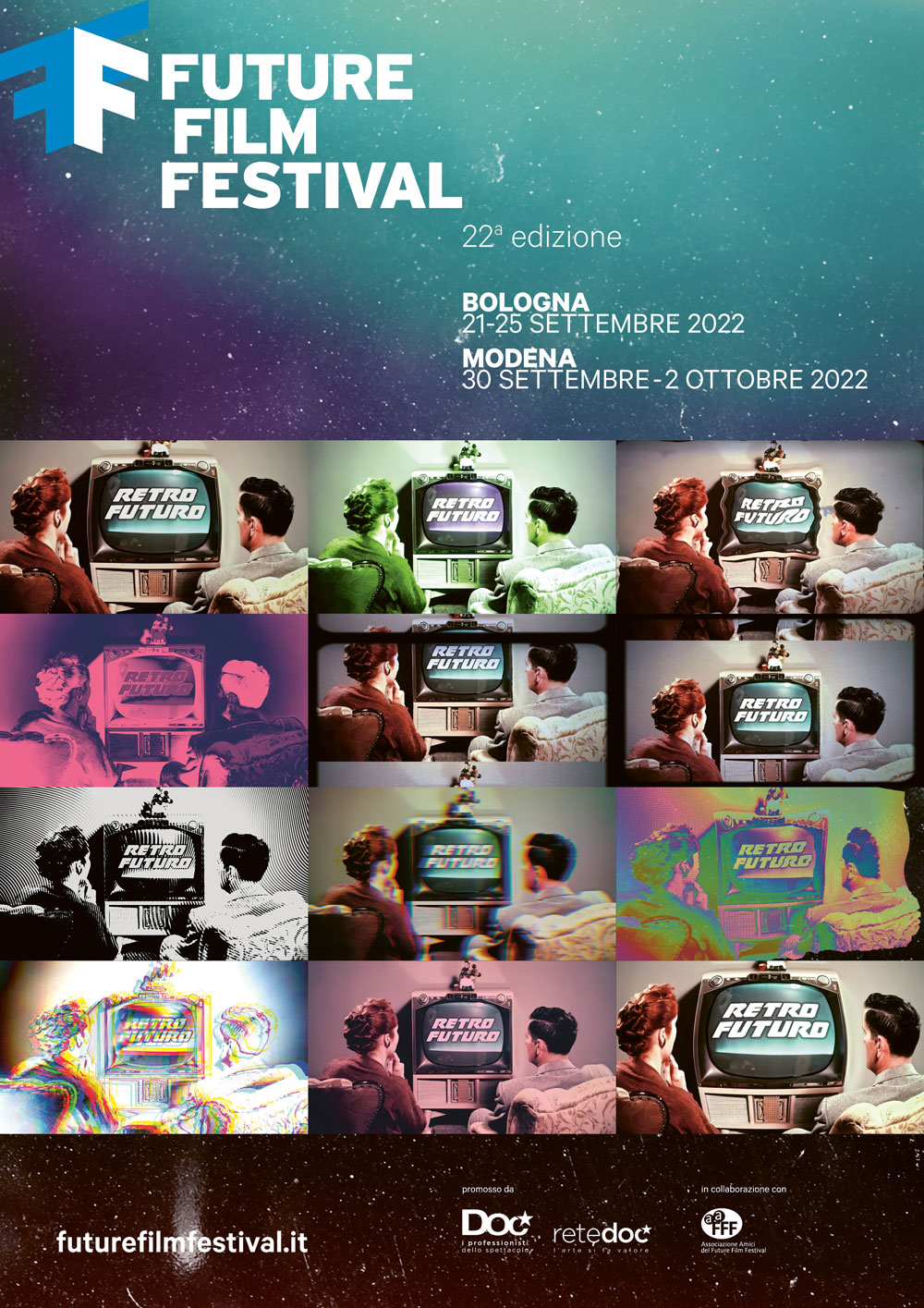 FUTURE FILM FESTIVAL announces the new dates
Future Film Festival is pleased to announce the dates of its 22nd edition, to be held in Bologna from 21 to 25 September 2022 and in Modena from 30 September to 2 October 2022. The first...
READ ALL THE NEWS
SUBMIT YOUR WORK
The Future Film Festival's 2022 call for projectsis now open. You can enter short films, feature films, series, AR/VR content, mixed media or visual effects made in Italy,all from the past two years. The winners will be awarded cash prizes, award plaques or kits.
The submission deadline is July 15, 2022.

If you have any questions regarding the inscription, please contact apply@futurefilmfestival.it
Future Film Festival 2022 Contest Rules.
FUTUREPITCH
Future Film Festival, in collaborazione con Doc Servizi, lancia la prima edizione del progetto FUTUREPITCH a sostegno dello sviluppo dell'interazione e del dialogo tra autori e produttori.
La presente sessione del FUTUREPITCH è dedicata ai progetti di animazione e FX (serie, lungometraggi, documentari e cortometraggi) destinati al mercato domestico e/o internazionale, ed è rivolta ad autori e registi italiani.
Il FUTUREPITCH 2021 si svolgerà in modalità one-to-one durante la XXI edizione del Future Film Festival il giorno 10 dicembre 2021, a Bologna.

LEGGI IL BANDO COMPLETO PER l'ISCRIZIONE A FUTUREPITCH (PDF)
Future Film Festival will host workshops with the major outstanding speakers/guests in the field of animation and visual effects, gaming, ar/vr and mixed media.

EARLY BIRD FEE
workshops 35 euros/110 euros
membership Pass GOLD 120 euros
membership pass SILVER 80 euros
membership pass WHITE 40 euros
membership pass STUDENT 30 euros

REGULAR FEE
tickets 10 euros
workshops 50 euros/150 euros
membership Pass GOLD 150 euros
membership pass SILVER 100 euros
membership pass WHITE 50 euros
membership pass STUDENT 40 euros

Tutti i pass e gli abbonamenti danno accesso alle conferenze/proiezioni, previa registrazione online.